When Kathy Caldwell, wedding planner from Loretta's Catering inn Jonesboro, approached us to be the designers for a traditional week long celebration filled with traditions from India and faithful to the Hindu wedding ceremony, we were thrilled. The family left many of the design decisions to us, which thrilled our designer souls. It was an amazing week.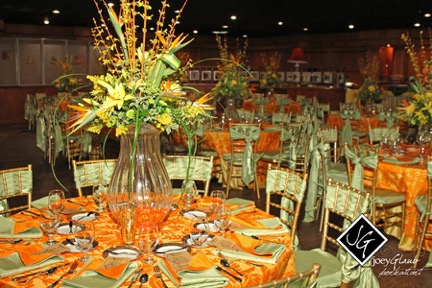 The week creating a welcoming home to greet guests from around the world. It is tradition to decorate the door with colorful fabrics and ribbons representing the saris and rich fabrics of India. The interior of the home was draped with fabrics of deep pinks, sapphire blues, royal purples; rich reds and gold fabrics, linens and flowers turned this Ridgepoint home into a place of joy, celebration and ceremony.
The bride's uncle from Kuwait hosted a traditional henna party at the 501 Club in Jonesboro. Mallory, owner of the 501, planned a delicious buffet and Kathy made sure everything was perfect. Posey Peddler golden yellow and orange linens coordinated with the tropical Birds of Paradise centerpieces.
Our very favorite design had to be the beautiful Blue Peacock of fresh orchids. Thousands of orchid and delphinium blooms delicately placed created this object of beauty. It took 7 hours to create this stunning masterpiece.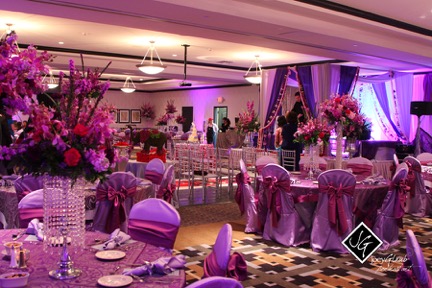 The wedding ceremony took place at the Hilton Garden Inn ballroom in Jonesboro. The bride's choice of purple was perfect for this royal wedding. Posey Peddler designers welcomed guests with soaring bouquets on silver columns. Bowls of rose petals lined the custom red carpet aisle. Whimsical floral elephants greeted each guest.
The guest tables and chairs were covered with Posey Peddler linens chosen to change the plainness of the ballroom into an elegant room. Up lighting and touches of votive lamps created magic. Crystal table chandeliers and vases filled the room with shades of purples, lavenders and aubergine. Silver elephant napkin rings brought thoughtful detail to each table.
The traditions of the family wedding were performed under the custom created wedding Mandeep. Organza fabrics tied with chains of orchids, custom carpets, benches and chairs adorned with roses. The bride and groom were married while guests enjoyed the atmosphere and wonderful food.
A reception hosted by the groom's family was held at Ridgepoint Country Club. The atmosphere was very festive and relaxed as this marked the last of a weeklong celebration.
Deep hot pink and chartreuse green transformed the RPCC into a room of joyful celebration. Each table & chair was covered in deep pink silk linens. Geometric hot pink floral by Posey Peddler designers together with custom accouterments on each table truly transformed the room.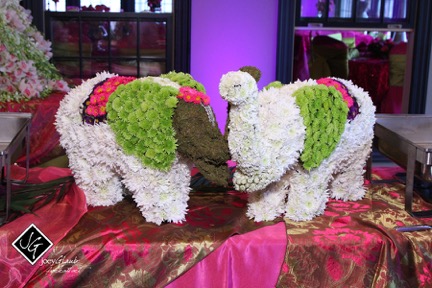 Our whimsical elephants and stunning peacock masterpiece returned, in all white, for this reception. Thousands of white orchids created the peacock's tail – this designer piece created quite the discussion amongst the guests. An original artistic piece adds such interest and originality to a party. Almost any design can be created to reflect the interests of the bridal party. Our elephants reappeared on the buffet table with trunks intertwined. The weeklong celebration combining the culture and traditions of another country with the hearts in NE Arkansas was a beautiful beginning to wonderful marriage. Kathy Caldwell of Loretta's did an amazing job coordinating events and bringing people to Jonesboro from around the world. Her attention to detail and execution of her job left us such freedom to design not only our client's dream wedding – but ours as well.
Venues: 501 Club – Hilton Garden Inn – Ridge point Country Club
Rentals: Posey Peddler Prop House
Wedding designer: Bridgette at Posey Peddler Flowers & Emporium Assistant Designers: Hannah Reeves – peacocks Tonia Iliff – Centerpieces Along with Nancy Green – Carrie Rossman – Terry Alcorn
Wedding Planner: Kathy Caldwell, Loretta's