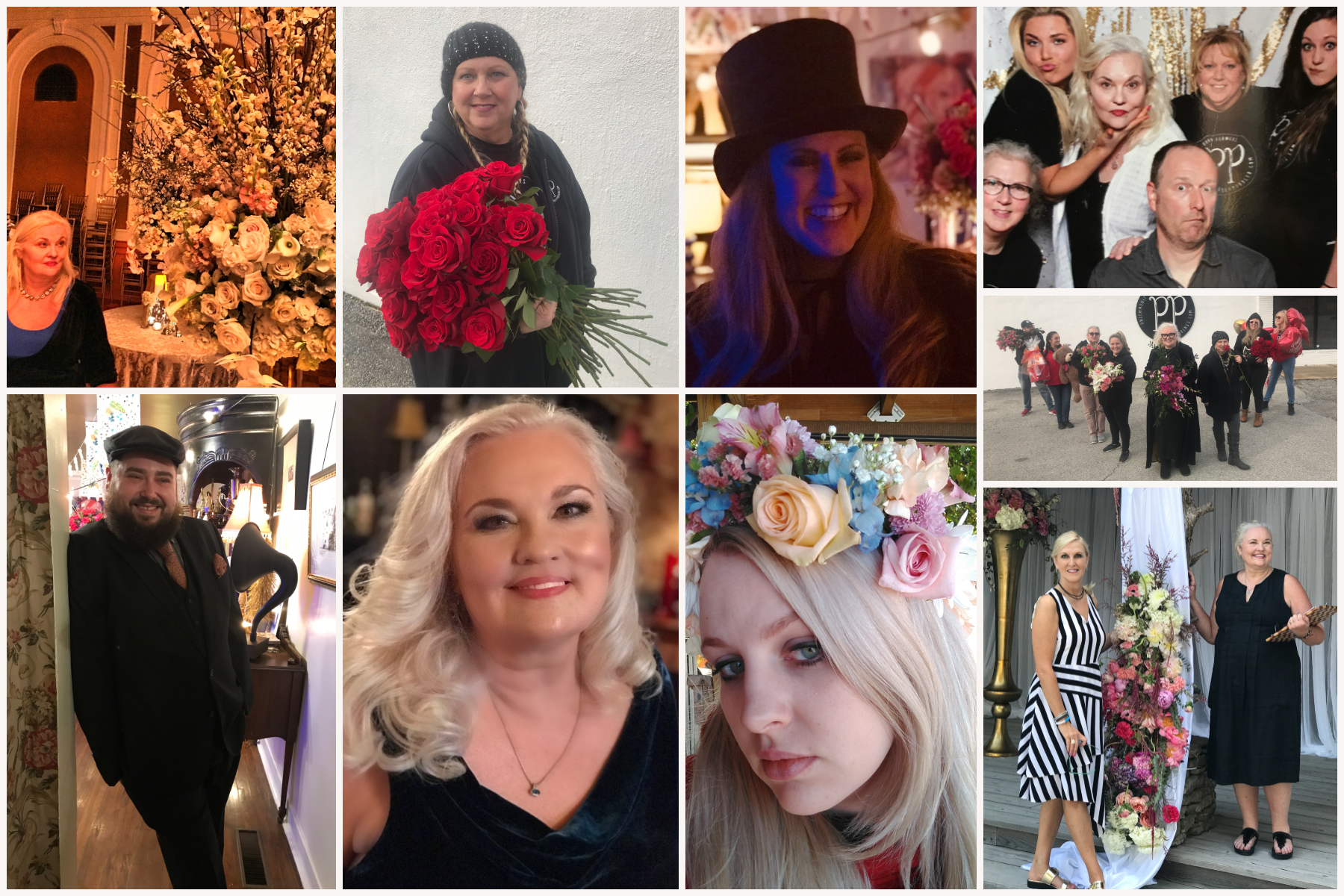 "TeamPosey is a dynamic, creative team of wonderful people devoted to the art of "getting it right"! They are experienced and dedicated - each person is crosstrained to ensure that all the details matter - because the design IS the details.
We strive to make your event worry free.
Jennifer, Ray, Valerie, Mae and Nicole……TeamPosey.
---
About Our Consultants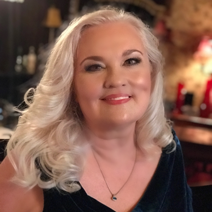 This email address is being protected from spambots. You need JavaScript enabled to view it.
Bridgette Mills Arnold
Owner
Arkansas Master Florist - Society of American Florist - European Floral Design International - TFWedding Program
In 2018 I launched "Bespoke by Bridgette" full wedding planning services in addition to our Posey Peddler wedding design services. Planning an event's detail is a natural progression in my career as a wedding designer and member of the NEArkansas community. Whether you are a DIY bride or in need of full service wedding design - I can help you. Visit my website www.bespokebybridgette.com for event planning details and pricing. Wedding/Event planning services are separate from Posey Peddler wedding/event design services.
Weddings, events and celebrations are my expertise - when combined with the creatives of TeamPosey - we are awesome! We love designing the finest smallest detail and sourcing the perfect flower to create exciting and creative parties! We have been planning and creating parties and events for over 30 years and have never created the same look twice! From simple to elegant to extravagant our ideas and sourcing experience can create a wonderful experience for you and your event. We specialize in the decor of the event and creating a theme or look. Themed parties & weddings, surprise parties, holiday parties, engagements, showers, corporate celebrations - We love them all. Decorating homes and offices for the holidays- we can do! We have collected props for rental and have sources for interesting chairs and more. We love creating a look using coordinated linens and believe this detail changes a venue significantly!
Venues, musical bands, event planners, flowers, trends, traditions and customs are my specialty. U can use my experience to give you unique insight to create a party or event to remember. Posey Peddler is affordable, experienced and excited to be a part of your wedding day or event. We have continually expanded my knowledge by frequently attending event and wedding seminars hosted by the world's premiere florists. No matter the occasion, culture or tradition - Posey Peddler will perform for you!
Bridgette's and TeamPosey's work has been showcased in Arkansas Weddings, Arkansas Bride, Southern Weddings, Jonesboro Occasions and various trade magazines.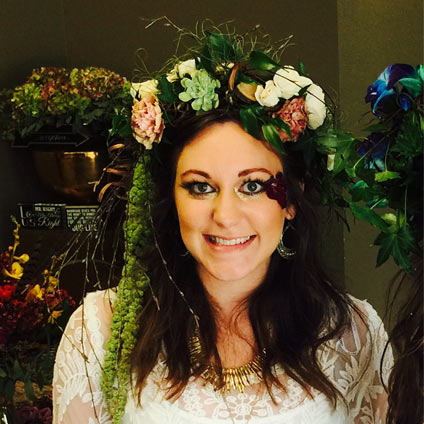 Hannah
Designer
AIFD Seminars - TF Weddings - Bride to Be
Hannah Reeves has a passion for beautiful flowers. Five years ago, Hannah joined our staff as a designer with a passion for learning and expanding her designer skills. She has excelled in every category. Her enthusiasm for the craft, excitement for your special day and attention to detail has made her a favorite wedding consultant and designer. Her collection of bridal bouquet creations has given her the experience a bride can depend on for guidance when planning and beauty on delivery. Hannah attends several Arkansas bridal fairs, events and seminars every year. She has also attended the American Institute of Floral Designers symposium for cutting edge design inspiration. Hannah also studied under Johan Anderson - Europe's designer of the year - to create the traditional European Hand tied Bouquet. Hannah is a bride to be in 2016 - so she understands the needs and concerns of brides on any budget. Hannah will create a difference in your special day!
---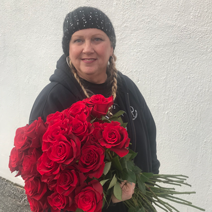 Tonia
Designer Extraordinary
Tonia brings a world of knowledge to the craft of floral design and impressive events. Her exciting designs and unique creations showcase a true talent for excellent design. Tonia has been creating beautiful things for over 30 years and has never stopped growing in her love and enthusiasm for all things floral, glittery and fun! From elegant to hilarious, Tonia will create a difference in your day! Tonias attention to detail and her personal standard of a professional creation has made her to be a crowd pleaser. Wedding, party, prom, corporate - if its a design then Tonia can create a difference!
---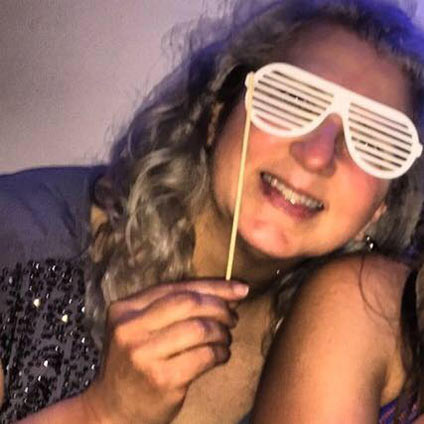 Terry
Prop House Rental Specialist - Balloon Artist - Fruit Bouquet Artist - Customer Service
Terry is our "go to" person for Prop House Rentals. Her knowledge of our rental products is extensive and she can help you chose the perfect items to complete the look of any event. Her customer service and attention to detail will help you feel confident in your selections. She has assisted with many events in many ways. Placing linens, placing products and delivering them right on time is her expertise. Terry is also an accomplished balloon artist. She has attended the world wide Balloon school and she can create almost any sculpture, column or balloon form to create a festive and delightful look to any event - especially corporate, baby shower or theme party events.
Terry is also a designer of fruit bouquets - these delicious and beautiful designs vary with each party. We use the best chocolate for wonderful chocolate covered fruits - customized with your theme in mind. Terry has over 10 years with the Posey Peddler team and her knowledge of Jonesboro and venues can be extremely helpful.
---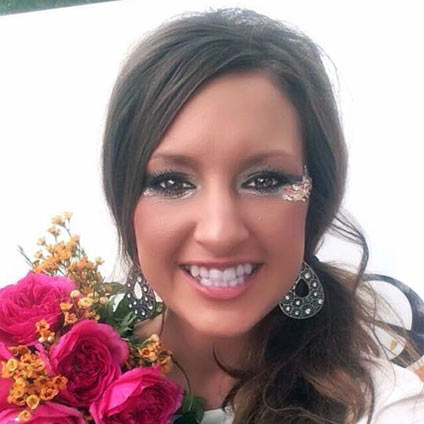 Heather
Customer Service - Personal Flowers - Designer Apprentice
Heather's fun and fresh approach to flowers and design add to her ability to understand the language of the customer make her a delightful addition to our Posey Peddler team. She is our front person for customer service - she will help you get what you need. She is apprenticing the art of floristry and her passion for creating beautiful things and pleasing the customer is unsurpassed. Heather joined our team in 2014 and has made flowers her career of choice. She is here to serve you on your special day!
---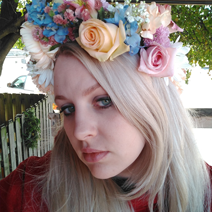 London
A passion for beauty, an attention to detail, form and design as well as an astounding artistic ability - London brings all of her abilities to the design table to create dreamy bouquets for brides. Always up for learning new trends, styles and designs London knows how to capture your vision in creating the fairytale bouquet of your dreams - professionally designed. TeamPosey's addition of London's eye for design to our team has been a true blessing!
---