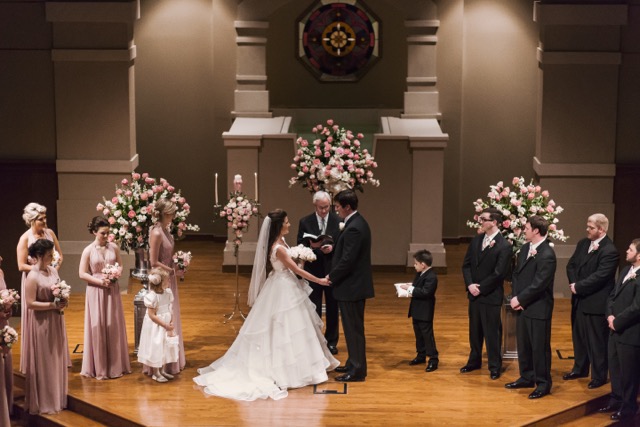 Casey and Tyler wedding day was perfection from the beginning beautiful spring morning to the evening's end filled with friends and family. Married in the Southwest church surrounded by Casey and Tyler's choice of the prettiest pink and milky cream blooms we could gather- their day reflected the sweetness of a couple truly in love. We were so pleased to be a part of their celebration.
Tyler had one main choice in the flowers – he wanted an amazing silver urn filled with dozens of perfect D'ela cream French roses to greet all the guests in the foyer. This classic design filled the foyer with beauty and scent.
The aisle of Southwest was marked with delicate pink dahlias and soft ribbons and tulles.
Large silver urns and columns held large bouquets of our best choices of creamy scented stocks and a beautiful variety pink garden and tea roses. The groomsmen and the bridesmaids carried the theme of this classic wedding with carefully chosen clutch bouquets and boutonnieres. Everyone felt a part of something special this day.
Casey's bridal bouquet was also chosen by her groom, a European tradition. She carried Tyler's favorite cream roses, which were wrapped with lace taken from his mother's wedding gown.
The reception at the Elks Club was exciting and beautiful. Silver bowls of peonies and roses filled the food tables Posey Peddler had chosen beautiful linens of soft pinks – this choice changed a very plain room into a beautiful room filled with flowers, family and friends. Glass bowls of cream hydrangea and large vases of cherry blossoms completed the perfect wedding day. As day turned into night- Casey and Tyler danced the evening away surrounded by family and many friends.
Venue: Southwest Church and Elks Club
Wedding Designer: Posey Peddler Flowers & Emporium
Linen rentals, silver rentals: Posey Peddler Prop House